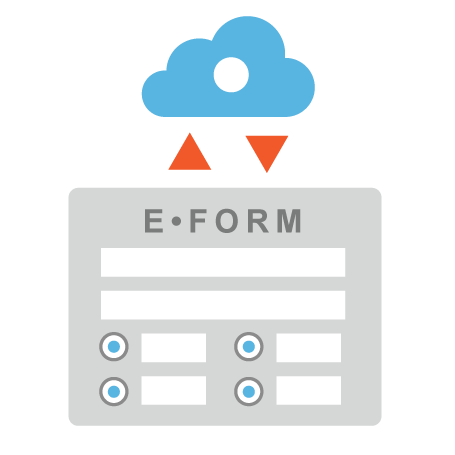 Now you can say goodbye to all the paper and penmanship it takes to generate and fill out forms of any kind.
Our E-Forms service eliminates the time and effort necessary to manually complete, file, store, and retrieve paper forms for reference and updating, and improves efficiency with automated approval processes and instant access to historic audit trails.
Use E-Forms to easily transition any and all paper forms to a secure, interactive electronic process so every form you need is always at your fingertips — literally.
What's In It
What's In It For Your Business
Interactive Electronic Completion and Updating of Digital Forms

Save time and money by converting paper forms to electronic
Automate via ineedafile.com web-based workflow
Interface with company databases

Cloud-Based "Software as a Service"

Nothing to purchase, install, maintain, or manage
Always up to date
Doesn't overburden IT or consultant resources

Individually Configurable

Solutions for any and every area of your business
Meets each individual department's needs
Solutions tailored to the way you do business
Doesn't lock you in, solutions evolve as your company changes and grows

Scalable

Start small with less at stake
Start slow as your schedule allows
Ramp up or phase in as required, and when the time is right

Mobile

Access information and workflow anywhere in the world on any device with an internet connection

Always Accessible

Access information and workflow processes 24/7/365

Secure

Safe storage in your own exclusive partition in our private cloud
Files automatically backed up at redundant remote sites
All internet activity securely encrypted

User-Friendly

Easy, quick implementation saves time and money
User-friendly interface enhances productivity

Digital

Reduced paper, storage, and retrieval costs
Convenient data input options — scans, emails, forms, and portal entry
Easy, quick, accurate retrieval
Multiple backups at redundant remote sites

Low Fixed Cost

Predictable expense, no hidden fees, no surprises
Reduced IT expense and consultant fees
Reduced in-house labor costs